A clear marketing plan for your mortgage company is key to building brand awareness, attracting qualified leads, and closing more clients. Whether you are just starting to develop your mortgage marketing strategy or looking to bolster your firm's current strategy, this guide will provide valuable insights for your marketing efforts.
In this first of five chapters, we will:
Define mortgage marketing

Give an overview of types of mortgage marketing

Explain the mortgage marketing stages and how to reach your audience at each stage

Share mortgage marketing tools every loan officer or mortgage broker can use to help automate their mortgage firm's marketing efforts
What Is Mortgage Marketing?
Mortgage marketing is quite simple – it's all the activities a mortgage lender, mortgage broker, or bank uses to educate and persuade potential clients to choose their mortgage services over those of their competitors. Marketing activities include traditional mortgage advertising, digital marketing, co-marketing partnerships, and referral marketing.
How Do I Market My Mortgage Company?
Before diving in, let's review our top three best practices to guide the development of your mortgage marketing strategy.
Quality Over Quantity: 

While various mortgage marketing strategies can lead to success, it's essential to focus on quality over quantity. When choosing the best marketing channel(s) for your firm, keep your marketing budget and the time each campaign will require in mind. It's better to start with one or two marketing strategies to avoid spreading your resources too thin before you can see a return on your investment. 

Measure Your Marketing Efforts: 

Remember to create a measurable goal for your marketing efforts to evaluate each campaign's performance and optimize your marketing strategy (and budget) along the way. 

Keep Your Clients In Mind: 

Ultimately, your marketing strategy should revolve around your clients' wants and demands. Since clients tend to be quite diverse and the marketing world is 

constantly evolving

, it's important to solicit feedback from your clients to better understand their behaviors and continually improve your chances of effectively reaching your target audience.
Types of Mortgage Marketing
A successful mortgage marketing strategy will generate a consistent flow of new mortgage business. Determining which is right for your business will depend on your marketing budget and available time. Here's a look at three of the most successful types of marketing for mortgages.
1. Traditional Marketing
Traditional mortgage marketing uses offline forms of communication like newspaper ads, magazines, and billboards to spread a message. It's a tried-and-true method of marketing that typically lasts longer and can reach a broader audience than online marketing methods. This form of marketing can also be very effective for reaching a local audience.
Traditional marketing and advertising for mortgage brokers often include:
Printed materials

 (flyers, direct mailers, business cards)

Concierge programs

/customer loyalty programs (gifts, holiday cards)

Newspaper/magazine advertising

Event sponsorships

Direct mail campaigns

Billboard advertising

Television or radio commercials
2. Digital Mortgage Marketing
Digital mortgage marketing is any form of promotion of mortgage services through an online or digital channel. As the world shifts towards all things digital, new methods for marketing mortgages continue to emerge. Some of the top digital mortgage marketing strategies include:
SMS text message marketing

Content marketing

Social media marketing

 (Instagram, Facebook, Twitter, LinkedIn, and Youtube) 

Pay-Per-Click (PPC) advertising

Search Engine Optimization (SEO) 

Property listing websites and landing pages

Virtual events and webinars
3. Co-Marketing and Referral Marketing
Relationship-building can be an extremely effective addition to your mortgage marketing plan. Co-marketing and referral marketing are two strategies that allow you to increase brand awareness, broaden your audience, and grow your business. 
Co-marketing

 is a mutually beneficial relationship where professionals in related industries (like mortgage brokers and real estate agents) work together to undertake joint promotional efforts. This partnership often promotes co-branded materials, open houses, events, and/or shared offers.

Referral marketing 

uses word-of-mouth recommendations to grow your customer base through collaboration with other professionals already working with your target audience. When you create a mutually beneficial referral relationship, you and your referral partner can experience significant business growth. 
Combining your marketing efforts with other trusted professionals allows you to add more value to your audience and attract a greater volume of potential clients.
Some common examples of co-marketing and referral marketing include:
Hosting networking events

Asking for client reviews

Cross-promoting content

Co-hosting educational events

Building your referral network

Post-close marketing strategy
3 Stages of Mortgage Marketing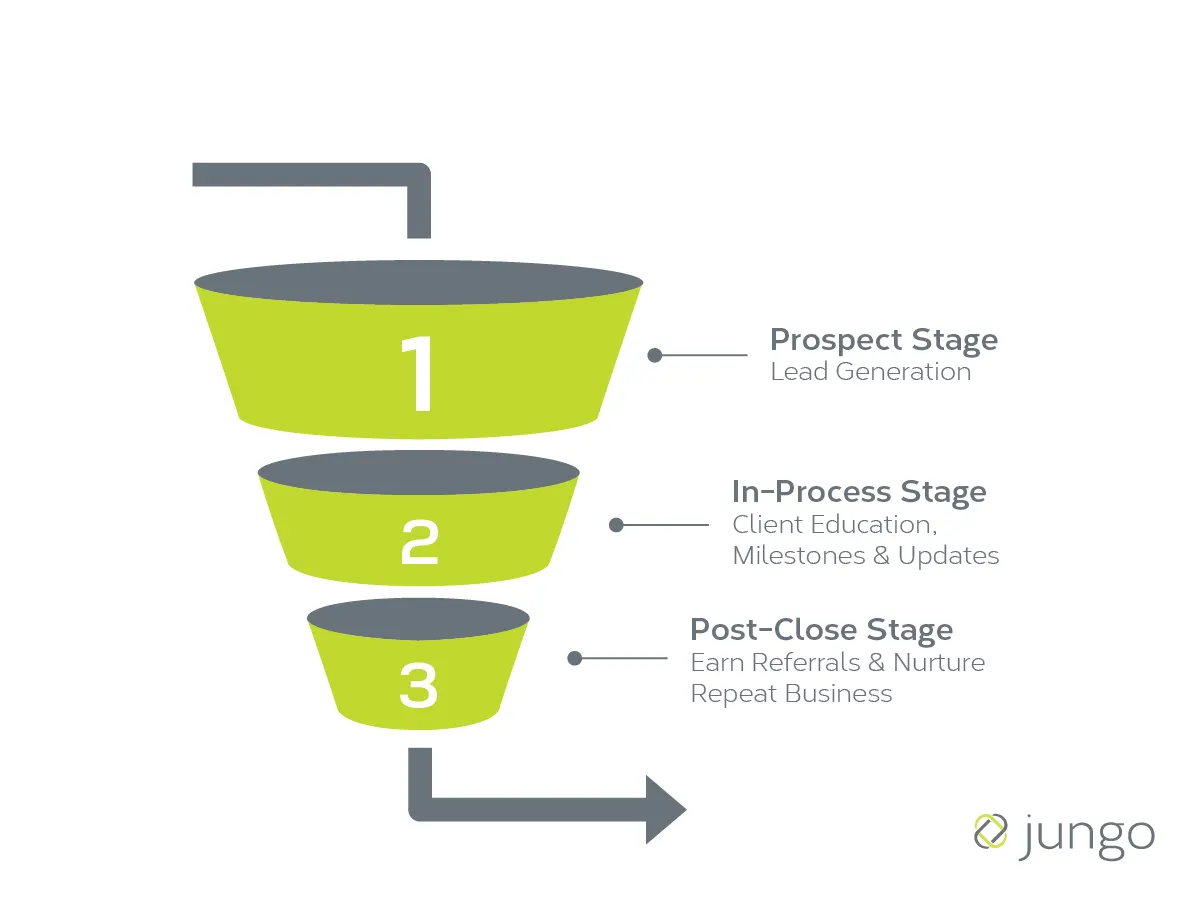 Marketing isn't just about getting your name in front of potential clients. To grow your business, you must have a strategy to move mortgage prospects through your pipeline. Typically, this involves guiding your client through the mortgage process from lead to post-close. 
Taking the time to establish a "Know, Like, Trust" relationship will significantly expand your client base and improve your closing rates. To do this, start by familiarizing yourself with the three primary stages of the mortgage client journey, then make sure you're taking action at each stage to strengthen your relationships.
1. Prospect Stage – Lead Generation
Once a client is actively looking for a mortgage solution, competition is fierce. If you want to position yourself for success, getting your brand in front of mortgage leads before they're ready to make a buying decision is essential. 
In the early parts of the prospect stage, a client may be completely unaware of you, your service, or your company. For example, a homeowner may have a mortgage one to two points higher than the current market rate. This same person could be struggling with debt and have plenty of equity in their home but may never have thought of refinancing their home to pay off debts. At this point, providing educational content is the best way to make them aware of who you are and that you have a solution for their problem. By offering valuable resources to your prospects through blog posts or social media posts, you solidify yourself in their minds as an authority in the mortgage industry.  Because they are familiar with your brand and trust you as an authority, prospects are more likely to choose your business for their mortgage needs.
In other cases, a prospect may know their need and understand that companies like yours offer a potential solution. Marketing efforts such as local SEO strategies, email marketing, social media, or PPC ads can help draw their attention to your business while they are still in the research phase.
2. In-Process Stage – Client Education, Milestones & Updates
Many mortgage professionals make the mistake of thinking that their marketing work is done once they've landed a client, and this couldn't be further from the truth. During the in-process stage, your focus should be on ensuring your client has such a good experience that they won't hesitate to come back to you when they need to refinance or purchase another property. Providing a positive experience for your clients is the best way to earn repeat business, positive reviews, and referrals. So, continue building the relationship by instilling confidence in the client through every step of the process. 
In this stage of the client journey, your marketing should center around client education and communication. Focus on reassuring your clients that things are proceeding as they should and make sure everything is as easy as possible. 
You can significantly improve the client experience by using mortgage tools to increase your efficiency and streamline the process. For example, you may use a Mortgage CRM, such as Jungo, to automatically provide notifications when a client hits a specific milestone. Salesforce backs Jungo with thousands of integrations, such as top LOS and PPE integrations. Not only will this keep the line of communication open, but informing the client on what's happening will also improve your mortgage pull-through rate.
3. Post-Close Stage – Earn Referrals & Nurture Repeat Business
Once the initial closing excitement fades, you lose touch with your clients, resulting in fewer check-in calls and emails. Don't let this happen! The first step in maintaining a great relationship with clients is maintaining contact with them.
Even after a client's loan closes, your client experience and mortgage marketing strategies should not come to a grinding halt. Staying familiar with your clients is a sure way to earn their refinance business down the road. It will take some extra time and effort, but investing in post-closing marketing will pay off. 
Examples of post-close marketing strategies include:
Sending personalized emails, cards, and gifts to clients on birthdays, holidays, and special milestones

Sending thank-you gifts to referral partners who made the deal possible
Keeping in touch after the close is one of the best ways to ensure that your past clients aren't rate shopping with another lender when it comes time to refinance or buy another property. You can automate post-close marketing to save time and effort while ensuring you never miss an opportunity to connect and continuously grow your business reach. 
Top 3 Mortgage Marketing Tools for Loan Officers
Planning and executing a mortgage marketing strategy without the right tools can quickly become overwhelming. You need a system to keep track of the clients and prospects you've contacted and tools and technology to help you effectively distribute your message. Here's a look at some cutting-edge solutions to take your mortgage marketing to the next level.
1. Mortgage Customer Relationship Management (CRM) Software

You've gone to great lengths to bring in new leads through your marketing efforts– don't let it go to waste! Mortgage Customer Relationship Management (CRM) software can help you manage leads, track referrals, and streamline communication with prospects, clients, and referral partners. A Mortgage CRM makes it easy to keep clients updated throughout each phase of the loan origination process. You can also make your referral partners feel confident when recommending your services by providing automated pipeline reports so they can watch their referrals progress. The tracking tool lets you see which referral relationships bring you the most business, so you can continue nurturing them.
2. Marketing Automation for Email, SMS & Video Marketing

Contact marketing solutions, such as email, SMS (text), and video, allow you to reach your clients and prospects in a way that is convenient for them. With Jungo's Mortgage Email Marketing solution, it's easy to market your business even when you're away from your desk. You won't have to worry about coming up with ideas or even remembering to click send. The system includes:
Pre-written, ready-to-send mortgage emails

Automated special occasion emails

Automated drip campaigns to help build relationships from the prospect stage to post-close follow-ups
Since everyone knows just how crowded email inboxes can get, Jungo also offers Video Emails to help you stand out from the crowd, build trust, and convert more leads. This tool makes it easy to record a personalized video and send it to a client with just a few clicks. 
SMS Text Messaging allows you to send messages directly to your clients' or prospects' cell phones so that you can communicate with them in real-time. Don't like texting? You can also respond to text messages using your email platform. You can even schedule your messages, so you can be sure they will go out at the perfect time.
3. Co-Marketing & Referral Marketing Solutions

One of the roadblocks to a successful co-marketing relationship is the time and effort it takes to create properly branded marketing materials. Jungo's Co-marketing solution makes it easy to customize email marketing campaigns, flyers, and post-closing cards with the branding you need. The system also allows you to track your results and provide customized reports to your partners, reaffirming the value of your relationship and allowing you to track the effectiveness of your campaigns.
How Does Marketing Automation Increase My Revenue?
Marketing automation is the key to streamlining your marketing programs, allowing you to create a more effective strategy with less effort. Additionally, marketing automation allows you to personalize your client's experience to their preferences, characteristics, and behaviors. According to a study by Oracle, when marketing automation is used, lead quantity increases up to 80%, and there's a 451% increase in qualified leads. Jungo receives a lot of questions from mortgage professionals about how marketing automation works and whether it will be a good solution for their business needs. Here's a look at the answers to some of our most frequently asked questions.
How Can Jungo's Marketing Automation Platform Benefit My Mortgage Business?
The automated systems available within Jungo's Mortgage CRM can help you automate your internal processes, marketing efforts, and sales development. Jungo's bulk content creation and distribution systems will allow your team to work on a massive scale, quickly expanding your marketing efforts – and your results. Not only will automation help you find more leads and close more business, but it will also allow you to run your entire company more effectively.
"A robust CRM is the lifeblood of my business, and I have deep trust in Jungo as my service partner." -Eric, Wells Fargo Home Mortgage
Do I Need to Have a Lot of Content to Benefit from Marketing Automation?
No! That's the beauty of Jungo's platform. It includes access to over 400 pre-built marketing templates that your marketing team can quickly and easily customize for your company and send out to thousands of clients with just a few clicks.
How Is Marketing Automation Beneficial to Loan Officers?
Jungo's marketing program's automation features can provide clients with a consistent stream of updates, pre-branded educational information, and more. Integrating these types of automation into a loan officer marketing plan streamlines several processes. Automation can free up a significant amount of time for loan officers, allowing them to focus on revenue-generating activities such as making phone calls and meeting with clients.
Bottom Line
We've covered a lot of ground in this first chapter of the Mortgage Marketing Guide. To recap the main takeaways, we learned that: 
Mortgage marketing encompasses all the activities mortgage businesses perform to educate and persuade potential clients to choose their mortgage services. 

Mortgage marketing strategies include traditional marketing methods, digital marketing methods, and co-marketing & referral marketing. 

The typical borrower moves through three stages of mortgage marketing: the prospect stage, the in-process stage, and the post-close stage. 

Tailoring your marketing efforts to each stage of the mortgage marketing process will allow you to provide a superior client experience that leads to repeat business and referrals.
Now that you are familiar with mortgage marketing and all its stages, head over to Chapter 2 to how to develop your mortgage marketing plan.