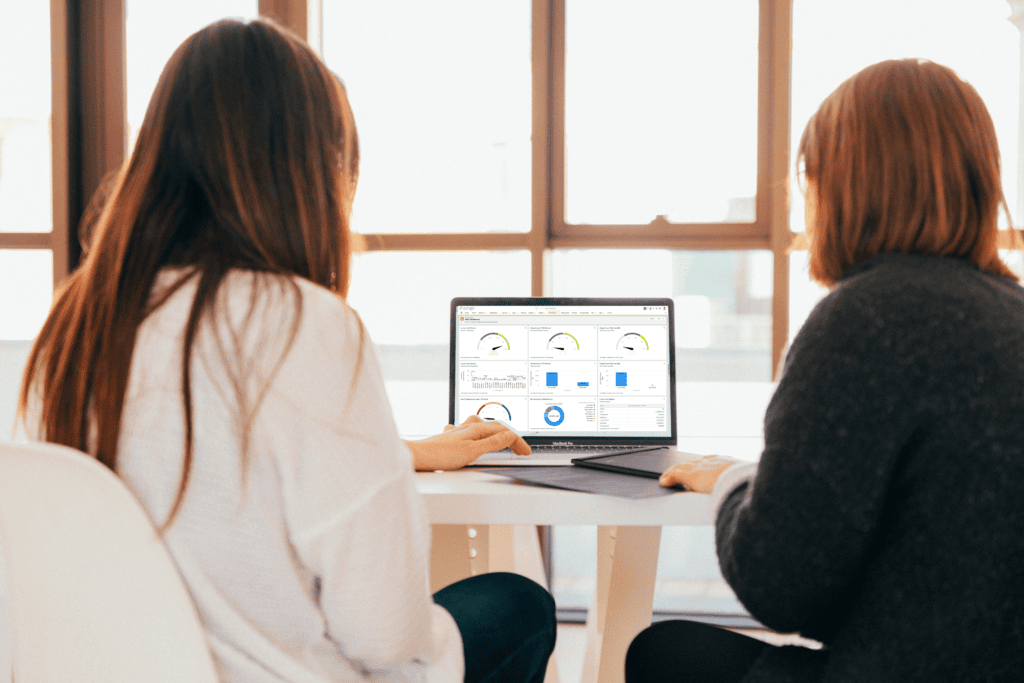 Co-marketing with realtors as a loan officer is a highly valuable tool for all parties involved. If a real estate agent regularly refers borrowers your way, you should consider how to bring value to them as well.
Co-marketing often takes the form of printed material, such as open house or just listed flyers. PrintPub, a tool in Jungo, allows you to easily create elegant co-marketing promotional materials. The real estate flyer creator automatically resizes photos and text to fit perfectly–no more struggling with flyer formatting.
Why Should You Care About Co-Marketing?
Co-marketing is all about mutually beneficial relationships, and PrintPub's co-branded flyers seamlessly allow you to pursue this goal. You have the option of adding both real estate agent and loan officer information and pictures on your flyers. This means that when a potential buyer picks up a Just Listed flyer, they'll know exactly who to call to see the property and who to call to get financing for it.
One of the most powerful parts of PrintPub is the ability to create a complete spread of marketing materials that have cohesive formatting, colors, and fonts. Imagine your real estate partner's delight when you hand them a complete packet of all the marketing materials they need for a new listing!
If you are interested in reading more about co-marketing, and why you should track the associated expenses, check out this post. 
A Marketing Plan for Your Realtor Partners
Wondering about the best practices for realtor marketing?  There are a few things that every realtor should plan to do when they have a new property on the market. Here's our summary of the steps that a real estate agent will most likely need to tackle with a new listing:
1. Take property pictures
. 
This is a critical step, especially with so many potential buyers viewing a home online before ever stepping foot inside. Hiring a professional is always a good idea, and also consider taking video of the property at the same time.
2. Write the MLS listing
. 
Not only is this a critical step for online listing advertisements, it's also a chance for a property to shine. A real estate agent should take the time to craft a great listing description to accompany the stunning photos. Zillow says that a MLS listing description should be about 250 words long.
When a MLS listing is synced to Zillow, some information can look less than amazing. A realtor should take the extra time to review how the property looks on Zillow, and make any necessary adjustments. This small step can make a house shine! All of the information on a Zillow listing is pulled from the MLS, so check your source carefully. If you're the listing agent, make sure to claim the listing on Zillow so that your name and contact info are shown on the listing. Bonus! Once open houses are scheduled, add the dates and times to Zillow. 
Another one of the helpful options within Jungo is to create a property site. Buyers will love being able to type a simple URL into their browser and instantly see all the listing's details and photos in one place.
5. Create printed materials.
This is where you can use PrintPub to  save your realtor partners a ton of time. Offering to take this time-consuming task off their hands will be very appreciated. Plus, when you provide beautiful, customized flyers, they'll be blown away! See below to read more about all the different types of co-marketing materials that you can make with PrintPub.
6. Post the listing on social media and websites
. 
Updating a real estate agent's social media platforms and website are amazing options for getting more eyes on the listing. A realtor could even run a Facebook ad, which can be targeted to specific zip codes or other demographics.
Once the realtor and the buyer are ready, advertise and host an open house. Don't forget to create showstopping open house flyers and open house sign-in sheets for getting the word out and tracking attendees!
Real estate agents can't forget to follow up with the names on their open house sign-in sheets. After all, this list of leads could include the name of the home's buyer. Realtors should have a game plan with how they will follow up with their leads. A CRM can be one of the most powerful tools in a realtor's back pocket. To read more about how a CRM benefits real estate agents, check out this post.
PrintPub's Co-Marketing Capabilities
Now that you have an overview of the steps that a realtor will take when they market a new property listing, let's talk about how you can help them sell more homes! After all, one of the most valuable ways that you can make connections with new borrowers is through realtors. And, your real estate agents need buyers in order to send business your way.
Jungo's PrintPub has many customizable co-marketing options, so here are just a few to consider in your realtor partnerships.
Coming Soon & Just Listed Flyers
Jungo's PrintPub makes it easy to create Coming Soon and Just Listed flyers. Simply enter the property details, upload your photos and you're off to the races!
You don't need a graphic design background to use these templates either! You will be able to easily update photos and formatting without breaking a sweat.
All you have to do is choose the theme and layout that best fits the property, and import the necessary details. And, that's it! Now you can download a high quality PDF to send to your realtor partner or print.
The templates are easy to populate with information. Just type the MLS listing number in, and the form will auto populate with all the details you'll need! 
Despite massive growth in the digital marketing realm, direct mailings still have tons of value! In fact, direct mail marketing outperforms digital efforts by 700%! 
With this in mind, it may be worthwhile to partner with a real estate agent to send EDDM postcards. One of the great things about direct mailers is the ability to customize who will receive them. Pick and choose by zip code or target demographics. Don't forget to include the property listing website URL! You can even create a special, trackable URL so that you can see the ROI on your mailers.
If you decide to send EDDM materials, the U.S. Postal Service offers helpful EDDM services. Their EDDM Online tool maps zip codes and neighborhoods, and you can then filter by age, income, or household size. When you're ready to send your beautifully designed postcards, USPS' EDDM Retail program allows you to send at least 200 and up to 5,000 pieces per day, per zip code.
Want more information about sending EDDM materials? Visit the USPS website.
When you've decided on a date and time for an open house, creating beautiful Open House Flyers can be a great way to bring locals to the event. You could choose to hand distribute flyers to a number of homes in the area, or pay to mail them. Either way, open house flyers spread the word and create interest.
Utilize PrintPub's easy-to-use Open House Flyer templates for this task too! Just like the other marketing materials, you can choose to co-brand the flyers. Your real estate agent partners will really appreciate the time and effort you put into this for them. They'll value your relationship even more since you just took an item off their to-do list.
Open House Sign-In Sheets
It's easy to create Open House Sign-In Sheets in PrintPub too. You can choose a template that matches the colors and fonts used in the other marketing materials for the listing. This creates an enjoyable cohesive experience for a potential buyer.
Using open house sign-in sheets is a critical step for a successful real estate agent. The people that visit the home need to be nurtured just like any other prospect. And a realtor can't do that without their contact information!
Lastly, creating flyers that include a property's financing information is a direct way for a loan officer to advertise their business. Potential buyers will appreciate this information up front. Plus, it can help real estate agents determine what leads may be qualified for a loan as they discuss the property.
Just like all the other customizable marketing materials that you can create in PrintPub, you can customize financing option flyers with co-branded information. If you use the same style templates for your open house, sign-in and financing, your realtor partner will be more likely to display your flyers together at an open house. This gives you potential exposure at the open house, even if you physically cannot be there.
Financing Options Best Practices
When it comes to financing flyers, less is more. A best practice to stick to is to only listing your lowest rate on the flyer. For example, in the flyer above, it says, "Payments as low as $5,389/mo." This draws the potential borrower in with an ultra-appealing payment option. From there, they can get more information about the specific financing options available to them.
After all, when it comes to rates, listing many financing options isn't just overwhelming to the reader, it's ineffectual. There are just far too many variables that play into determining what a specific borrower's "lowest rate" is. So, it's impossible to include all this on a single marketing flyer! Instead, simply list the lowest rate you can offer on the property, and your contact info so that an interested buyer can reach out to you for more information. 
Co-marketing with realtors takes some effort and planning, but it can pay off in spades. Creating mutually beneficial professional relationships is one of the keys to building your business as a loan officer. Realtors can be some of your best advocates, as they have a direct line to buyers who are also potential borrowers.
Sit down with some of your realtor partners, and offer them even more value through the New Listing Marketing Plan, above, or beautifully co-branded printed materials. And don't worry about needing to spend a ton of time or resources on the flyers. With PrintPub, creating a flyer is straightforward and the results are stunning.