The on-demand economy is growing, and for good reason: today's consumers want their products and services delivered fast. Take a look at Amazon–they've become a powerhouse retailer founded on this principle alone. Yesterday is not fast enough.
However, this is a big challenge for the mortgage industry. Fannie Mae says that it takes an average of 46 days to close a new purchase loan, and 49 days for a mortgage refinance. 49 days just doesn't have the same ring as two-day shipping.
In a world where you can instantly order food, a ride, or even your brand-new car, this timing just doesn't stack up. The mortgage loan process is complicated, and involves many moving parts. Because of this, it's impossible to expect a loan as quickly as your online shopping purchases. But loan officers still need to prioritize how to sell mortgages to on-demand customers.
Here are the ways that you can sell mortgages to on-demand customers:
Lead Follow-up: The Faster, The Better
What do these statistics have to do with each other? Well, today's homebuyers are becoming more and more reliant on the internet for their home search needs. The question is, are you keeping up with the trends?
If you're not, you're missing out on a significant segment of possible borrowers. When a lead submits their information to a website like Zillow, it's important to follow up quickly! 
With the Jungo Leads App, you can count on efficient and prompt lead follow-up. New leads drop directly into your CRM. Because they then can be automatically distributed to members of your team, you can ensure a rapid response. This level of customer service will impress your leads, and increase your loan volume.   
Send Digital Pricing Options
Product Pricing Engines (PPE) allow you to instantly calculate and send a borrower's loan pricing options. Plus, you can send leads interactive pricing calculators. These tools display different mortgage options, and how much they could expect their payments to be.
Offering tech tools such as a PPE to your borrowers will help them make educated decisions during the home buying process. It will also bring an extra level of transparency and clarity to your customer, and help you stand out from your competition.
Offering technology such as a PPE to your borrowers will help them make educated decisions while buying their home. It will also bring an extra level of transparency and clarity to your customer, and help you stand out from your competition.
With Jungo's PPE integration, you'll have one less login to manage.  Your CRM will be full integrated with all of your other software platforms. You'll be able to run PPE Quick and Full quotes right from Jungo. These quotes can then be sent immediately to customers. This on-demand service will help your borrowers to make faster and better financial decisions. 
Provide Digital Mortgage Applications
Digital mortgage applications are making more and more of an impact in the industry. With this shift, borrowers are beginning to expect the freedom they offer even more. If you don't provide digital applications, selling mortgages to on-demand customers will become very difficult.
Borrowers also appreciate the simple entry point that digital mortgage applications provide. Digital applications can also encourage those who might normally be intimidated by the traditional loan process.
Perhaps the best part of digital applications is that your clients can apply from anywhere, at any time. No more waiting for an appointment at a bank or with a loan officer. Today's digital borrowers can simply login to their applications on their computer or phone. Marketing mortgages to on-demand customers has never been easier. 
Make Your Updates Efficient with SMS
As a loan officer, updating your borrowers on their loan status or documents needs lists can be extremely time consuming. After all, how many times have you sent an email or left a voicemail only to never receive a reply?
Not only is the loan status update process time-consuming for you, your borrowers probably aren't thrilled by the phone tag either. After all, they want to know right away if their loan was approved, or if their documents are ready to sign.
So, it's important to make your loan status updates more efficient for you, your borrowers, and your referral partners. This will reduce time spent on low priority tasks, increase your customer satisfaction, and better your professional relationships.
Making your loan status updates more efficient will reduce how much time you spend on low priority tasks, increase your customer satisfaction, and better your professional relationships.
Texting for your business in 2019 shouldn't just be a suggestion, it should be a requirement. After all, texts have some of the highest open rates of any form of communication.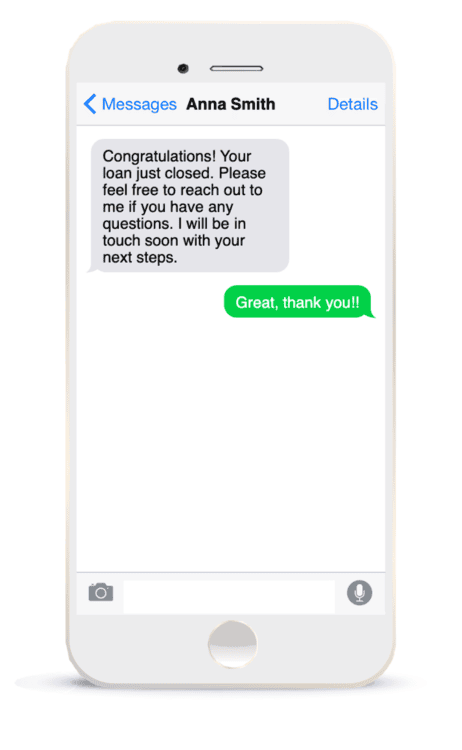 With Jungo SMS, you can send single or mass texts to your contacts, and conduct real-time conversations, right from your Jungo account. Even better, you can set automated loan status update texts. When a borrower's loan status changes, Jungo will automatically send a SMS update to your client and referral partners. 
One less loan update for you, multiplied by every step in the loan process, multiplied again by all of your borrowers and referral partners. Now that's some efficiency math we can get behind.
Seal the Deal with E-Signatures
Gone are the days where closing a loan requires a borrower to drive to the bank and sign the paperwork with a physical pen. With the rise of the digital mortgage process, your customers can now sign their loan closing documents right from their computer, smartphone, or tablet.
Jungo's DocuSign Integration
DocuSign provides a completely secure online signature portal. Jungo + DocuSign means you no longer have to juggle multiple logins to provide your clients with an amazing mortgage experience.
Send documents and agreements for signature, capture information, and track responses, all automatically within Jungo. This minimizes the time required for closing, and also allows your borrowers to sign whenever and wherever they would like.
Take Advantage of ReFi opportunities with Rate Alerts
When a customer is interested in possibly refinancing their home, what is your process for marketing to them? Imagine that a past customer tells you that they'd love to refinance their home, but they want to wait until interest rates drop back down below 4%. Unless you have an incredibly detailed memory, when the rate drops below 4%, possibly months after you discussed the ReFi, you probably won't remember to get in contact with your past client or lead.
Not only is this a lost ReFi opportunity, it means that your customer may end up going to a different loan officer for their mortgage needs!
Rate alerts are a great way to generate more loan volume. Set a preferred rate for your clients, and you'll get an email as soon as that rate is available! It really is that simple.
This is an easy and effective way for you to stay up to date on the current market. Plus, you'll be able to provide amazing service to your mortgage customers who want prompt updates!
Customer expectations are changing, and the mortgage industry has the chance to serve its clients better, faster, and more efficiently. So, choosing to implement some or all of the tools above will also help you sell more mortgages to on-demand customers. Not to mention, that it will also help you stay relevant in today's economy.