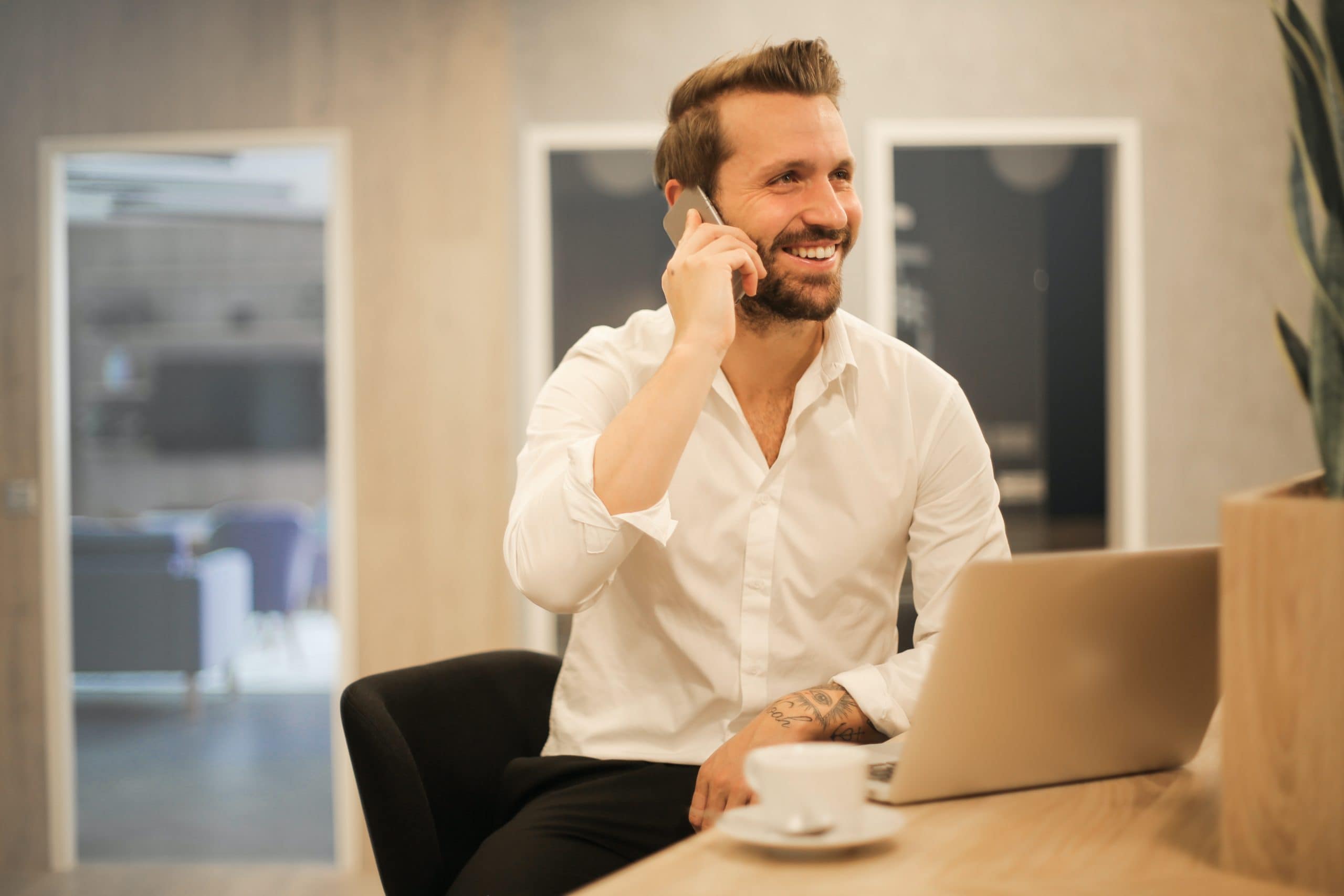 What do you say to prospects during a cold call, email, and text conversation? Once you're talking with a lead it's easy to forget everything you were about to say. Using a loan officer script can help you say the right thing consistently in order to turn leads into clients. In this blog, we'll cover the basics of using loan officer scripts, including what they are, why they're important, and when to use them. We'll also look at some best practices for deploying loan officer scripting for maximum effectiveness.
What Is a Loan Officer Script?
A loan officer script is a written plan for what to say during common loan discussion scenarios. For example, let's say that a prospect just visited your website looking for information on home mortgage rates and they opted into your email list. One of your loan officers might follow up with an email, text, or phone call, introducing themselves and inquiring about the prospect's home buying search. For example, the loan officer might send a message which begins, "Thanks for visiting our site to research home mortgage rates. Have you ever bought a home before?"
As this example illustrates, a loan officer script provides guidelines for what to say in order to build rapport with the prospect and learn more about their needs. A script provides structure for the conversation, but it can be flexible and allow for spontaneity and the human element. Don't make your scripts dry and monotoned. In the above example, the script might call for different responses depending on how the prospect answers. The more experienced the loan officer is with handling common situations, the easier they find it to customize their script to address the prospect's individual situation and needs.
Why Is a Loan Officer Script Important?
Scripts can help your loan officers and your business in multiple ways. First of all, a script allows you to structure a conversation based on sales best practices. Make sure to use the right language for these key points.
Having a script gives your loan officers a chance to prepare what they're going to say. This builds confidence, and let's face it, can help overcome cold call reluctance. It can keep conversations focused, action-oriented, productive, and time-efficient, discouraging unguided rambling which is prone to happen when officers don't know what to say.
Some may object, saying that scripts can discourage spontaneity, but this doesn't need to be the case. You wouldn't want to read a script robotically but, if a loan officer doesn't have a prepared script, they're going to instinctively fall back on whatever subconscious language they're used to using. The effectiveness of their presentation will then hinge on their experience. Therefore, if the loan originator is not very experienced, they may fumble for words.
Benefits of Loan Officer Scripts
For newer loan officers, a script provides a solid basis to build on until they gain the experience to be spontaneous effectively. Similarly, more experienced loan officers can use a script as a starting point for spontaneous adaptation to the situation.
Scripts allow for continuous improvement. You can refine the language of your scripts over the course of hundreds of calls. When a turn of phrase proves effective, you can keep it, or if it doesn't get results, you can adjust it. This allows you to iterate your scripts for better and better results.
Frequently Used Loan Officer Script Scenarios
Loan officer scripts are necessary in many scenarios. Here are a few examples of script openings.
Loan Officer Scripts for New Leads
Hi, [first name]. Thanks for visiting our website to look for properties in [area]. Are you a first-time home buyer?
Loan Officer Scripts for Property-specific Leads
Hi, [first name]. Thanks for inquiring about the property at [address]. I have an opening on [date and time] when I could show you the home. Does that work for you or would [alternate date and time] work better?
Loan Officer Scripts for Pre-approved Buyers
Hi, [first name], I have great news for you. Based on the information you provided, you're preapproved for a home mortgage loan. I have a couple properties within your budget that fit what you're looking for. I can show you the first one on [date and time] if you've available. Does that work for you or would [alternate date and time] be better?
Hi, [first name], it's been a while since we talked about your home buying search. Are you still looking for a property?
Loan Officer Scripts for Probing Buyer or Seller Motivations
Hi, [first name], I noticed that you were looking for a property at [address]. Is finding a property in that location your highest priority or are you more concerned about finding a property at that price?
Loan Officer Scripts for Explaining Total Cost Analysis (TCA) Breakdowns
Hi, [first name], I've gone through your loan options and done a total cost analysis of your potential costs and savings. I'd like to sit down with you and walk you through some options. Would [date, time] be a good day to meet or would [alternate date, time] work better?
Loan Officer Scripts for Prospects Who Are Talking to Competitors
So you mentioned that you're also working with [name of competitor] to finance your home purchase. May I ask what results you've gotten from that so far?
Loan Officer Scripts for Earning Referrals from Past Clients
Hi, [first name], I hope you've been enjoying your new home since we closed on your mortgage. I wanted to ask you if you know anyone else currently looking for a new property who I might be able to help in the same way?
Loan Officer Scripts for Earning Refinance Business
Hi, [first name], I hope you've been enjoying your new home since we finished closing your mortgage. I wanted to ask if you have any interest in refinancing your mortgage at a lower rate?
Loan Officer Scripts for Building Referral Partnerships
Hi, [first name], I'm a loan officer who handles about [number] of clients a year, and I thought I might be able to help steer some business your way. I'd like to buy you lunch and discuss the mutual benefits of a possible referral partnership. Would [date and time] work for you?
Loan Officer Script Best Practices
Whenever you're writing loan officer scripts, keep a few best practices in mind:
Keep your scripts short and focused on key goals such as building rapport and identifying client needs
Allow flexibility in your scripts based on how the other party responds
Have loan officers rehearse scripts by themselves and with partners so that they gain confidence in their ability to recall and adapt scripts spontaneously
Track the results of your scripts so that you can make continuous adjustments and improvements
Following these best practices will help make your scripts more effective.
Leverage Loan Officer Scripts for Success
Loan officer scripts allow your officers to plan conversations that consistently transform leads into clients. Scripts help loan officers organize conversations according to sales best practices, overcome cold-call reluctance, and pursue continuous improvement through ongoing iterations. Loan officer scripts help a wide range of situations, from probing the needs of new leads to building referral partnerships.
For best results, keep scripts focused on key points, build flexibility into responses, rehearse, and make adjustments and improvements based on experience. Remember, it's okay to have a little fun with your scripts and add a human element. Follow these guidelines to put loan officer scripts to work for your business.